Trips to Colima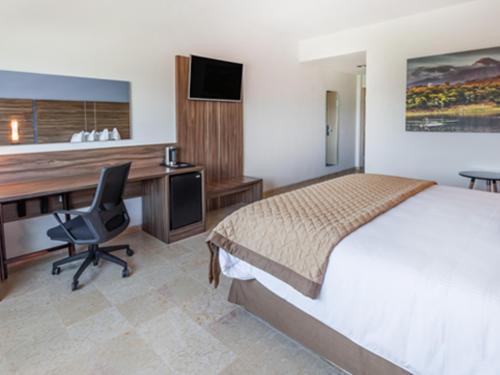 Mexico has endless places to be visited and it is likely that people always have in their top of mind the most popular paradises, but there are other places that could surprise you and for which you will not need a large amount of money. Colima is an example of this, with amazing landscapes, ecotourism areas and the Windham Garden hotel that offers you a luxury lodging service and puts at your disposal the convention center for the realization of any event.
You will know that the journey of your trip to Colima begins to end when you visualize each of these volcanoes with their snow-capped summits, a series of palms will receive you opening the way, a picturesque and colonial village will cross before you, and your appetite will be opened with the gastronomic options that you will want to taste. In Colima and its surroundings you will find many activities and landscapes that will surprise you and that you do not want to stop sharing.
Trips to Colima mean knowing the most active volcano in the country, the Colima volcano, better known as the Volcán de Fuego, and the volcano of Colima. These ecotourism areas are visited by hundreds of tourists during the year for activities such as mountaineering or simply for the pleasure of living with nature through excursions. Even a surprising number of Europeans are attracted to these terrains for mountaineering activities because they have considered that the snow cap of Colima has similarities with the Mountain of the Alps.
Among the tourist attractions of the trips to Colima is that hundreds of species of exotic birds fly over the volcanoes and with luck you can appreciate them in your expedition. And if you want you can fly over the volcanoes in a hot air balloon! Once we receive you at Wyndham Garden, we can gladly guide you and provide information so you can make the most of your visit to Colima.
Within your travel itinerary to Colima, you must include visiting the town of Comala, which has been named a magical town and is recognized as the setting for the novel Pedro Páramo by the renowned Mexican writer Juan Rulfo. Comala is located in the foothills of the Volcán de Fuego, so you can plan your journey to the adventure of the volcano making a stop in this magical place that paints a landscape of white houses with red roofs and lots of vegetation.
In this magical town you will have the opportunity to get to know the Parroquia de San Miguel Arcángel, the former Hacienda Nogueras, where you will learn about the process of making sugar, the Alejandro Rangel University Museum, among other attractions such as the handicraft market and the typical dishes of the place that are the picón, coffee of the region, and the traditional punch of pomegranate that is prepared with mezcal or red wine. Comala is also famous for its fresh cheese and its alfajores, so do not hesitate to try them.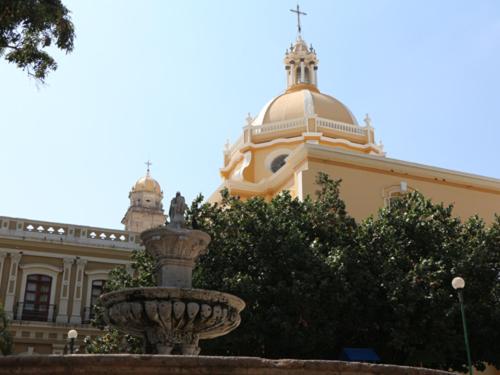 En las cercanías de
Colima
también encontrarás la zona arqueológica El Chanal, las Grutas de San Miguel y los manantiales de Zacualpan donde podrás sumergirte en el ojo de agua o bien, practicar ciclismo de montaña por sus senderos. Si realizas una escala en Zacualpan, considera entrar a los talleres artesanales y ser testigo de la creación de los hermosos bordados que nos hacen orgullosos de nuestra cultura. Como podrás ver, los
viajes a Colima
resultan en una aventura para descubrir gran variedad de espacios.
Además, la playa de Manzanillo queda solamente a una hora y media de distancia por lo que en tu viaje a Colima podrías armar un tour completo que incluya contactarte con volcanes, montañas, ojos de agua, el océano y otros tantos elementos de la naturaleza, así como explorar los pintorescos pueblos y su comida típica. Puedes aprovechar este viaje para dar una vuelta por todos los atractivos y en Whyndam Garden te damos el excelente servicio que necesitas para expandir tu agradable experiencia hasta la habitación del hotel.
Reconocemos que los viajes a Colima no solamente son para turistas o exploradores de la naturaleza, muchos de los viajes a Colima son por negocios y nuestro hotel, además de tener una muy buena ubicación, tiene una excelencia en el servicio que te brinda relajación y concentración. Podrás tomarte un rato libre para probar la comida de nuestro restaurante o tomar algo de la carta de nuestro bar luego de tu jornada de negociación. Tenemos la mejor ambientación para ti, sea cual sea el motivo de tu viaje.
De igual forma, si asististe a algún evento, no tienes por qué buscar opciones de hoteles ya que Whyndam Garden tiene contemplada esta parte de tu viaje a Colima. Todo lo que necesites podemos cubrirlo y si no tienes tiempo de conocer los alrededores naturales, una caminata por La Plaza principal y el jardín de la Libertad te vendrán bien para relajarte, escuchar la música que ahí se toca y detenerte a comer algo.
Si tu viaje a Colima es por una conferencia, una boda, negocios, una graduación, etc. Busca quedarte unos cuantos días más para explorar los alrededores y aprovechar que ya te encuentras aquí, además de que ya tenemos la mejor opción de hotel para ti, donde puedes elegir alguna de las habitaciones que tienen vista hacia el volcán.
Además, ahora es mucho más fácil y barato encontrar viajes a Colima en avión porque la aerolínea Volaris recién agregó rutas que hacen un trayecto directo de Ciudad de México y otros puntos de la república. Así que si antes habías buscado vuelos a Colima y sólo encontraste pocas opciones, esta vez será distinto.
No importa cuál sea el motivo de tu viaje a Colima, Wyndham Garden tiene todo preparado para que la experiencia dentro de nuestro hotel sea igual de buena que tu experiencia explorando en los volcanes, los pueblos y todos los sitios especiales que hay por conocer de este lado del país. ¡Ya te estamos esperando!.