HALLS FOR EVENTS IN COLIMA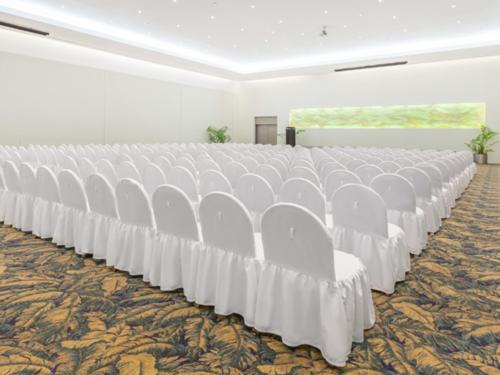 During the different stages of life, you achieve many achievements or live events that are worthy of sharing with others and that you want to celebrate in a big way: your wedding, the fifteenth birthday of your daughters, the graduations, etc. It becomes very important that everything goes well and that is why the Allegra convention center offers you the best.
If you are looking for halls for events in Colima , this convention center, which is part of the Wyndham Garden hotel complex, offers all the services that will make you not worry in the least about the organization and that you dedicate the day of your event to celebrate, since in addition to offering you the rent of the space, it offers all the necessary services for the occasion.
Our 12 years of experience guarantee the success of your event as we not only provide you with the space but also the logistics service, banquet, audiovisual equipment, furniture, and, of course, the hosting service. Even if you need some extra service, we offer you suggestions from our suppliers portfolio. Not only do we profile ourselves as the best of the event halls in Colima , but we also position ourselves as professional organizers who attend to every detail of your special day.
In our rooms we perfectly adapt dance floors, the arrangement of the furniture as required, screens, if necessary, and other elements that are essential in your event. Our logistics staff has the ability to advise and plan with you if the adaptation of the space will be cocktail type, banquet, or auditorium, depending on the type of event and your number of guests.
If any area seems reduced for what you planned your party, you can reserve one of our two rooms that have the possibility of being expanded and solve this problem space. Our event rooms in Colima can be adapted in a way that is suitable for 20 as well as 1,000 people; you give the indications, we make you the proposal and we execute it.
In the same way, if you have thought about your outdoor event, our garden adapts perfectly to cocktails or banquets. It is an excellent space to enjoy a baptism, first communion or another type of social event that takes better outdoors. If you are looking for a garden within the proposed salons for events in Colima, we will adapt it to your wishes without problems.

As part of the services of meeting rooms in Colima we have the ideal banquet service that requires your dream wedding, the XV years for which you will provide, graduation, baptism ... No matter what time or what the celebration, we have ideal menus for every occasion. The best quality and the best flavor we give you, you will not have the need to hire someone abroad and deal with so many suppliers, we take care of them.
FOR YOUR EVENTS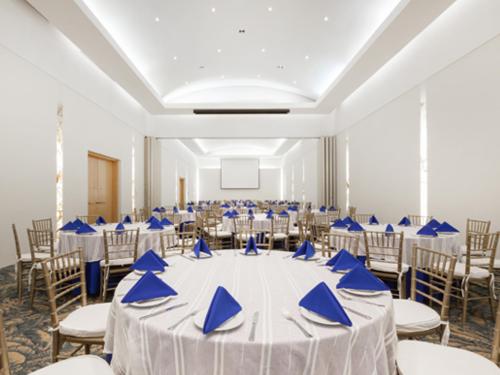 You can choose between regional, national and international dishes which we handle in our special packages for XV years, weddings, baptisms, graduations, inns, theme parties, academic events or any type of social event. We assure you that our chef will please all those who will be celebrating with you, whatever the option you choose.
Another element that is fundamental and that you will not have to worry about, is the furniture as well as providing you with a choice between round tables, square tables, rectangular planks, cushioned chairs or tiffany style chairs ; any option that improves logistics and that sticks to what your party requires.
And to continue impressing your guests, we chose the best dance floor, stands for musicians, podium, crockery, plate, glassware and table linen. We think about the elegance and the right tone of each element according to your event, so do not keep thinking about more options for event halls in Colima if Allegra convention center provides you the best.
For the comfort of the guests, the event halls in Colima of the Allegra convention center, has 160 parking spaces; 60 of them roofed and 100 outdoors, where it is possible to accommodate buses, if necessary. A space for easy access to our premises and with convenient surveillance.
Security is an element that we do not neglect as part of the options of meeting rooms in Colima because we have security personnel, alarms and fire equipment. We prevent any type of accident and we are vigilant to control any situation.
Due to the fact that the Allegra convention center, with its offer of meeting rooms in Colima , is part of the Wyndham Garden hotel complex, we offer you the best lodging option for your guests; so you can enjoy the experience in its entirety within our 91 rooms, and other services such as the restaurant lL Vento and Bar Toro Rosso or in common areas such as the pool.
Meet our facilities, choose and reserve the right room, tell us your ideal party and start planning together to begin the preparations and propose only the best for you and your guests in our event rooms in Colima.
We know perfectly that this type of celebrations are unique, that they are shared with important people and that it remains within the best memories, that is why we put all the enthusiasm so that every detail is perfect and the organization is not an exhausting phase, but rather Remember this experience as one of the best at all times.