Hotels in Colima Colima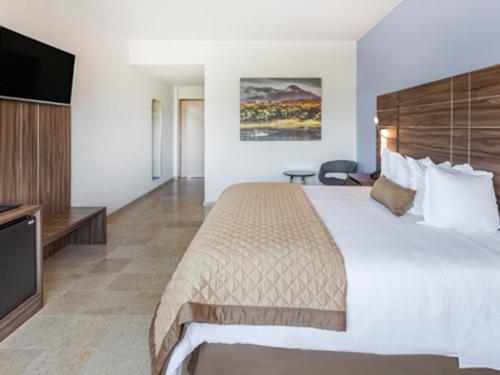 Visiting Colima will fill you with a huge satisfaction, Wyndham Garden, offers you a distinguished experience within the hotels in Colima Colima.
Colima means place where the old god or god of fire dominates, which refers to the volcano of fire, which is actually located in the state of Jalisco but is known as Volcán de Colima for the wonderful view that can be seen from Colima
The cuisine of Colima is delicious, you can try the most representative dishes of the state, such as the tops that are small toast covered with mince and dipped in juice, the thick sopes, the pork pozole, the tatemado; pork stewed with coconut vinegar and red chile, pepena; stewed viscera and the coachala; martajado corn and cooked with shredded chicken.
If you go in the rainy season, you can also enjoy the jackals or river prawns prepared in broth and as for the typical drinks, we have the tejuino, which is prepared with atole de maíz y panocha, served with lots of ice, salt and lemon, the tuba that has been the sap of the coconut tree and the bat that is made with a seed called chan.
Wyndham Garden is one of the hotels in Colima Colima that has a Restaurant-Bar that will allow you to taste an exquisite cuisine and mixology, and you can also enjoy during happy hour.
Around the various hotels in Colima Colima you will find picturesque houses that adorn the streets along with large leafy and green palms. Within the tourist attractions of the city of Colima you can visit its beautiful Cathedral designated on October 12, 1998 by Pope John Paul II, the University of Colima, the Volcano, the Hidalgo Theater, the various archaeological sites such as La Campana and El Chanal, the statues, old buildings, museums and other temples.
With regard to the facilities and services that Wyndham Garden offers, we have an outdoor pool, garden, gym, restaurant - bar, convention center and internet and free parking, as well as free transportation from the hotel to the airport and to places that find a 6 km radius, as well as the opportunity to belong to the WyndhamRewards program that rewards our guests, they can accumulate points for each consumption they make and then obtain certain prizes and benefits as free nights in another hotel belonging to the chain Up to miles for flights, we are the best choice of hotels in Colima Colima for both tourist and business travelers.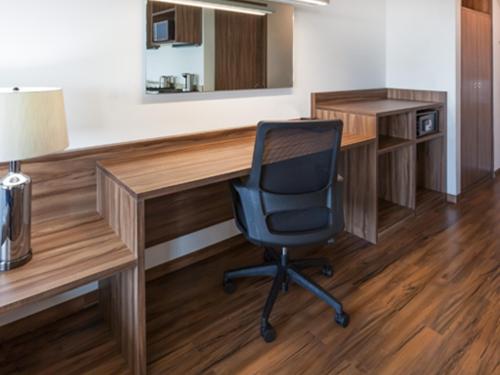 If you want to travel for pleasure, and family, do not think twice, Wyndham Garden is one of the hotels in Colima Colima that can give you the experience you have in mind, your children will have fun like never before, while you You can take a relaxed lifestyle as you will find in your room, the best quality mattresses and pillows that will give you a better rest, and at the same time you can lead an active lifestyle in which you can participate in different activities offered the hotel as a volleyball juice or beach soccer, go to the gym or run by the sea.
If you are traveling for business, be assured that of the hotels in Colima Colima, Wyndham Garden will provide you with the best spaces so that you can carry out your projects and achieve the level you want, take a break, get away from the bustle of the city and come to visit Colima. In addition, we have an ideal convention center for business, social or academic events and we take care of giving you a complete service that integrates logistics resources, banquets, audio and visual equipment and furniture so that you have nothing to worry about.
Wyndham Garden has the best location of hotels in Colima Colimaya that you can perfectly appreciate the Volcán de Fuego while you are enjoying a delicious dish in our restaurant and at the same time you can enjoy a sunset while reading a book in front of the pool . Similarly, you can visit the beach Pascuales, ideal for surfing or meet Cuyutlan beach, best known for the green color of its waves, which are 40 minutes from our hotel.
Something that distinguishes us from the hotels in Colima Colima is that Wyndham Garden currently has more than 8 thousand destinations around the world, this gives us greater added value as we guarantee extraordinary stays fully guaranteed by our customers.
Relax, you are here, when you stay with us, you will have the respite you deserve, free of stress, and not just about the room itself, but about what is inside, such as comfortable and innovative amenities and a strict focus on service so that guests feel completely satisfied. We understand the value of guessing right down to the smallest details, we redefine your comfort expectations by having things ready even before you need them. That's why Wyndham Garden is at the top of hotels in Colima Colima, so do not hesitate to book one or several rooms with us for your next trip.
When they stay with us, we make them forget their concerns, making them experience true peace of mind during their stay.
Do not think about it any more, if on your next visit you are looking for hotels in Colima Colima, there we will be waiting for you with the high quality service you deserve, Wyndham Garden is your best decision!