ALLEGRA CONVENTION CENTER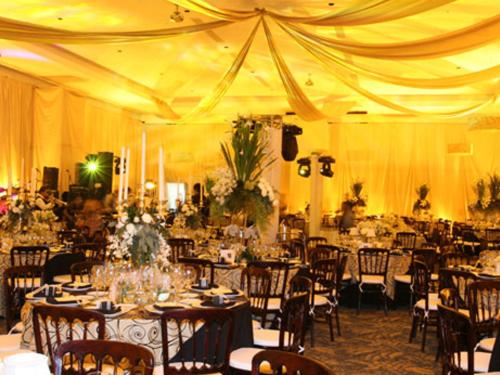 In daily life -both in our personal lives and in labor issues- there are key moments that take us out of our daily routine, such as celebrations, congresses, courses, workshops, etc. and that are part of many of our anecdotes and learning to share. If there is something that generates a better experience and a better memory, it is the place where they lived.
Wyndham Garden offers you the best lodging option, it also provides a hotel in Colima with a convention center . The Allegra Convention Center is the ideal place, with the best services, where you can hold your events and guarantee one of the best experiences for your guests, clients or workers.
Allegra, is a convention center in hotel of Colima with 10 years of experience in the organization of business events, social events or academic events, such as banquets, work sessions, meetings, training, congresses, conventions, weddings, XV years, baptisms , graduations or inns.
This convention center in Colima hotel not only gives you the ideal space for the needs of your event, it is also responsible for giving you a complete service that integrates logistics resources, banquet, audiovisual equipment, furniture, and, of course, the service of lodging. This way you will not have to worry about the success of your event because we guarantee it.
Hotel in Colima with Allegra convention center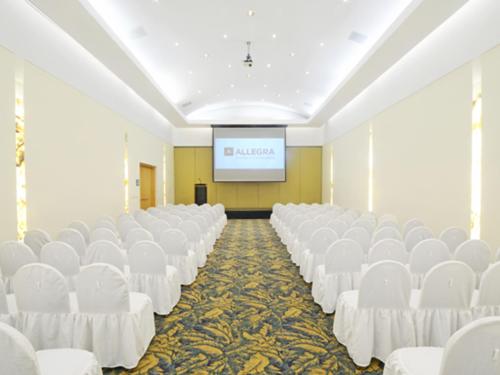 In Wyndham Garden, hotel in Colima with Allegra convention center , we give you the possibility to choose the space you need according to the type of event you want to do, because our facilities have:
1. 6 rooms for events with a total area of ​​965m2. All of them with high speed wireless internet.
2. Foyer with an area of ​​122m2 and bathrooms with marble finishes.
3. Fully carpeted rooms, with air conditioning, projection equipment and light intensity control (dimmers).
4. The Ophelia, Novara and Firenze rooms have integrated audio equipment.
5. Garden with a surface of 222m2, pool, pool bar and bathrooms, for outdoor events.
6. Area with 160 parking spaces, 60 of them indoors and 100 outdoors, allowing access to several buses.
In addition, two of our rooms have the possibility of being expanded if you need a space with greater capacity. Each of them can be adapted in 5 ways: cocktail type, banquet, auditorium, school or horseshoe. In addition to the rooms, we also offer you the garden space for cocktails or banquets.

This adaptation depends on the arrangement of the furniture and this defines the capacity of each room, which can be from 20 to 1300 people. As you can see, no matter what the objective of your event or the number of expected attendees, we can solve it so that the results are the best and the experience impeccable.
In Allegra convention center , we know that technology is something that has become vital even in celebrations, business events, conventions, etc., that's why we also provide projectors, folding screens, sound, wireless microphones and Internet connection high speed wireless. You should not worry because the technical problems are also under control.
One more and very important element that, as a hotel in Colima with convention center does not fail us, is the excellence in our banquet service. You will be able to enjoy the best seasoning of the foods prepared in our kitchen where the cheff will give pleasure to the palate of your guests.
We prepare from simple canapés to delicious regional, national and international dishes, which we handle in our special packages for XV years, weddings, baptisms, graduations, inns, theme parties, academic events or any type of social event. In the same way, we provide you with coffe break service with coffee and pasta for your conferences, work meetings, training, congresses and conventions .
As a convention center in the hotel of Colima , we also manage the accommodation of the attendees of your event, offering you in Wydham Garden all the comfort that will make it possible to enjoy the experience in its entirety within our 91 rooms, and other services such as restaurant l Vento and Bar Toro Rosso or in common areas like the pool, where you will find the pleasure of resting after a day of work.
If your event requires other services, such as a hotel in Colima with a convention center, we have a large directory of suppliers in the city with which it will be easy to link up to cover all the logistics needs you need to cover.
Events in a convention center at the hotel in Colima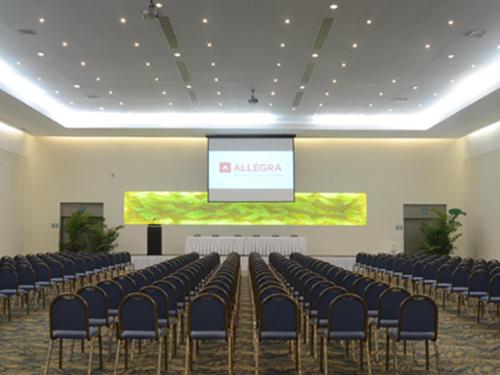 At Allegra, our hotel convention center in Colima , important events have been held, such as the presentation of candidates, government programs, brands such as Radio Dinsey, Andatti coffee, and also editorial presentations. In addition, meetings of the CONAGO and the US embassy have been held, conferences such as Pedro Ferriz de Con, César Lozano, "El sueño de un campeón" by Julio César Chávez, among others.
We have also hosted seminars and business presentations such as: Usana, ASEA and Neovita. Even within our facilities, the show of the youtubers Werevertumorro and Mario Aguilar took place. As you can see, it does not matter what type of event, It is always possible to do it in Allegra, the best hotel convention center in Colima .
So if you are looking for a hotel in Colima with a convention center, thinking about Wyndham Garden with its Allegra convention center will be to think about the best option for your event to be a resounding success and remain in the memory of your attendees as one of the best experiences