Allegra Colima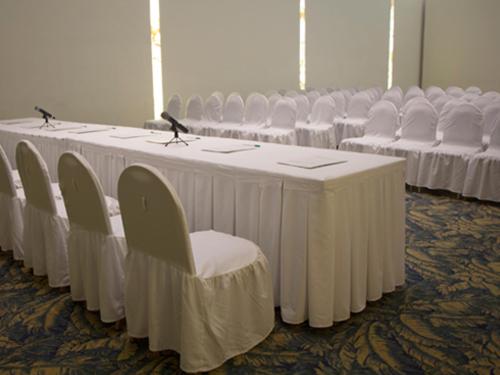 Are you looking for a space to hold an event?
Allegra Colima
is a convention center that provides you with that and more, regardless of whether it is an executive event, as well as a convention, conference or a celebration subject such as a party of XV years, graduation, wedding, etc. We have a space for each occasion and staff that will help you obtain the highest satisfaction.
Part of the guarantee of Allegra Colima , are the 13 years of experience that support the ideal that are our meeting rooms and the effectiveness of each of the services we offer so that whatever your event and your requirements, is solved of the better way and with providers of the best quality.
Allegra Colima , in addition to offering you lodging service, for belonging to the Wyndham Garden hotel complex, provides logistics services, banquet, audiovisual equipment, furniture and an extensive portfolio of providers to cover any need of your event and your guests. There will be little to worry about with Allegra Colima Convention Center, as we have most of the aspects of organizing your event under control.
We have different options of spaces that we can provide, depending on the type of event, the number of attendees, the activities you have planned and other aspects of your event; In addition, each of these spaces can adapt perfectly to your requests.
In Allegra Colima we have 6 rooms with a total area of 965 m2, equipped
with high speed internet, carpeting, air conditioning, projection equipment and lighting control (dimmers); even three of our rooms identified with the names Ophelia, Novara and Firenze, have integrated audio equipment that will save you from worrying about this topic.
In addition to these features, two of our rooms have the possibility of expansion for situations in which more capacity is needed and each of our rooms can be adapted in different ways: cocktail type, banquet, auditorium, school or horseshoe. This will depend on the arrangement of the furniture that at the same time defines the capacity of each area, which can range from 20 to 1,000 people approximately.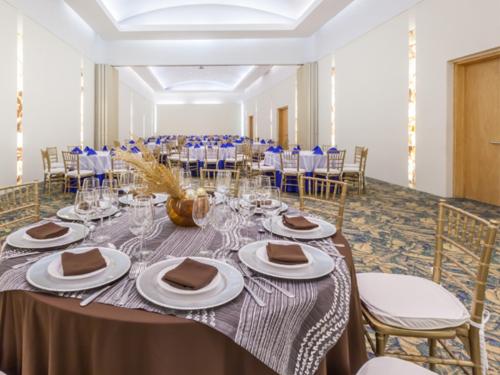 Added to this, our facilities have a lobby of 122 m2 where you can manage the reception of the attendees the way you want and bathrooms with marble finishes that add touches of elegance and cleanliness. Each part of your event will provide a good experience in
Allegra Colima
.
If your event is ideal to celebrate outdoors, we also have a suitable option for you and it is our 222 m2 garden, swimming pool, pool bar and bathrooms. This area can also be used in multiple ways and decorated to your liking to create the ideal environment.
For the convenience of your guests, our parking space has 160 drawers available, of which 60 are covered and 100 outdoors that allow access to several buses in case those attending your congress or conference, etc. Visit Allegra Colima from other parts of the republic, as a group.
In Allegra Colima , part of the service we provide is to take care of the necessary and adequate furniture that you require. You can choose between round tables, square tables, rectangular planks, cushioned chairs, tiffany chairs, dance floor, stages for musicians, podium, tableware, plate, glassware and table linen. We give you the options, you choose and we take care of the logistics, the accommodation, the linens and any other matter that guarantees the comfort of your guests and an excellent organization.
Another of the facilities that are part of our attention is to provide you with the technology you need, such as projectors, folding screens, sound, wireless microphones and high speed wireless Internet connection. No matter what type of event you are about to do, if within your planning is the use of any of these artifacts, we will provide them to you.
We know that the planning of a celebration, one of the issues that are the main part of the list is the banquet and for this reason we also support you by preparing the menu you want for that important date, taking care of the excellence in the flavors and the quality of each service stage. You will not have to resort to external suppliers, because you can enjoy the extraordinary taste of the food prepared in our kitchen.
We elaborate from simple canapés to regional, national and international dishes, which we handle in our special packages for XV years, weddings, baptisms, graduations, inns, thematic parties, academic events or any type of social event. In the same way, we provide you with coffee break service and pasta for your conferences, work meetings, training, congresses and conventions.
As you already read, Allegra Collima is part of the hotel network of Wyndham Garden so we can manage the accommodation for all those guests who visit Colima from other cities, or for conventions or symposia in which it is usual to receive people from different places . Without a doubt, you can enjoy the comfort of one of our 91 rooms and have more time to get to know this city and its surroundings that are part of the country's tourist destinations.
At Allegra Colima important events have been held, such as the presentation of candidates, government programs, brands such as Radio Disney, Café Andatti, editorial presentations, meetings of the CONAGO and the US Embassy, conferences such as Pedro's. Ferriz de Con, César Lozano, "The dream of a champion" by Julio César Chávez, among others. We have also hosted seminars and business presentations of Usana, ASEA and Neovita, and shows by youtubers Werevertumorro and Mario Aguilar have been presented.
For us it is possible to adjust to any type of event you wish to perform, we listen to your wishes and your requirements and we carry it out with excellence, thinking of a perfect execution and an unbeatable experience for you and everyone who is present. Allegra Colima is without a doubt the best option you will find.